Patrons
Michael Williams MBE, former Lord Lieutenant of East Lothian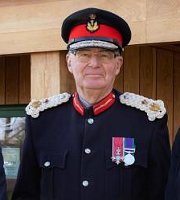 We were delighted to welcome Michael Williams MBE, former Lord Lieutenant of East Lothian as a Patron in September 2018. Michael served in the Royal Tank Regiment for 20 years before settling with his family in East Lothian in 1986. He has been a very keen adopter of conservation measures and is enthusiastic about a 'sympathetic' farming system.
Michael has been involved in a number of conservation organisations and was awarded the MBE for services to biodiversity, conservation and agriculture in East Lothian. He is a staunch supporter of the work of Fostering Compassion.
Mr Maxwell and Lady Sarah Ward
Max and Sarah Ward live at Stobshiel House and Garden in East Lothian. Stobshiel Garden is opened by arrangement through Scotland's Gardens Scheme. The Scheme facilitates the raising of money for charity through helping garden owners, mostly private, to open their gardens to the public whilst making the whole experience inspiring, rewarding and enjoyable for all involved. Max and Sarah have always had a great love of animals and are huge supporters of what we do. We were delighted to welcome Max and Sarah as Patrons from September 2018.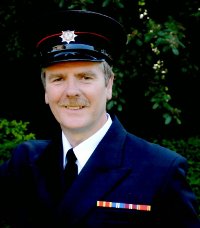 Thomas Kevin Blair QFSM
Kevin is the father of Meghan Ambrozevich-Blair to whom our Animal Heroes workshop is dedicated. Kevin married his wife Lauren in 1984 and together they raised three children – a girl, Meghan, and two boys, Jared and Ethan. Kevin left school at fifteen and started working at the local cement works in Dunbar. He attended college and qualified as a heavy goods vehicle mechanic. He then spent forty years working in the maintenance department and retired, due to ill health, in 2014.
Kevin took on a second job, in 1980, joining the Lothian and Borders Fire Brigade as a Retained Firefighter, serving his local community in Dunbar. Retained Firefighters carry a pager and respond to the fire station from their home or place of work whenever they are alerted. During his 33 years in the fire service he rose through the ranks to become Watch Commander, a post he held for 20 years. Under his leadership, Dunbar was one of the first fire stations in the area to have regular fire safety classes, all the primary two children visiting the station each year.
Local groups of Cubs and Brownies also came along to the station to learn fire safety and earn their badges. He also instigated the annual open day which ran for over fifteen years. As well as helping people, firefighters render assistance to animals. Kevin and his fellow firefighters carried out many animal rescues during his career. Calls ranged from horses trapped in flood water, fences and horse boxes to small animals being stuck in strange places. The most notable small animal rescue was the recovery of a kitten, only hours old, that had fallen into a drainpipe under a kitchen sink. The ingenious rescue method used was a sock on the end of a vacuum cleaner hose, the suck-cess-ful rescue being covered by media worldwide.
Kevin retired from the fire service in 2013 and at the end of that year he was awarded the Queens Fire Service Medal (QFSM). His medal was awarded for distinguished service to the local community. Anyone who asks what QFSM stands for usually gets told, jokingly, that it stands for Quite Fit Sexy Man. Kevin has spent his whole life helping and caring for others and continues to do so as a Director at the Dunbar Craft Centre and Community Shed in Dunbar where all the staff at the Centre are volunteers. The main aim of the Centre and Shed is to encourage people to get out, meet new friends, share skills, boost confidence, combat loneliness and generally promote well-being. He is also a great believer in carrying out random acts of kindness.